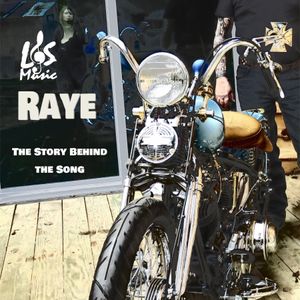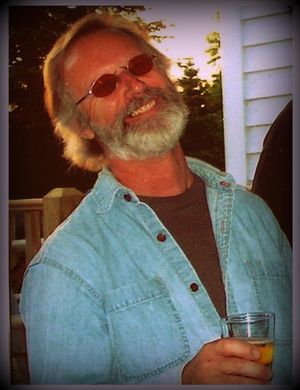 Raye "you could be a ray of light"     by lgs
It didn't take long to write the song Raye. It was one of many "download songs", a time I have with the Holy Spirit as He writes a song across my heart. I weep, and write, I'm in awe, I write, and I cry some more. During this process my emotions are high, it feels surreal yet incredibly intimate. Below is the story that spurred this cool little song with Raye Trott in mind.
Raye Trott thought Christianity was ridiculous, stupid, bigoted and shallow. He would ramble on with these opinions' night after night at the restaurant where I worked.  You heard right, almost every night Raye would come in and heckle yours truly because I was a Christain.
He was well known in the community of Naples, Maine, a "fixture" some would say. We met when one of my other customers introduced me to him in the pub, I was the house bartender. I shook his hand, said hello and served him a beer. Little did I know that this character was soon to be my enemy and then later become a friend.
Not long after I met Raye, he came sauntering into the bar right at opening time and as I was setting up for the night. The place was empty so I could hear his motorcycle pull in the parking lot. Raye's silhouette seemed to shine in the dusty sun of light as he walked through the door.
"I hear you're a joy seeker" he said with a loud drawl, "and I want to hear your story." 
Raye wanted to know the story of how and why became I a Christian. I suppose it was strange to him where I was a bartender AND a recovering alcoholic. So, of course I told Raye my story but not until I went down into the beer cooler to pray to God that He gives me the right words to say to this guy.  I prayed to stop talking if he seemed uninterested and to not over explain. I prayed for the Holy Spirit to get me out of the way.
Truthfully? I was hoping Raye would change his mind once I got back upstairs. I wasn't prepared, I felt vulnerable and was a "Word-less warrior" for the most part back then. Well, he seemed to be earnestly interested in my testimony. Typically, I would not have any of my music on me, especially at work but you know "Who" had a plan. When my story was told, I gave him a CD and made him promise he would listen all the way through.
Before Raye left he threatened to kick my butt if he happened to get "saved" and laughed a cynical cackle of a laugh.
After he left I felt a sense of joy and honor that I was given the opportunity to share Christ with an unbeliever. But oh boy, did it ever BACKFIRED! The next time Raye came into the bar he was snide and sarcastic, purposely cursing God. Raye told me that he hated that I was a Christian. He insulted Jesus and Christianity every time he would come in, which was pretty much every day. 
 I put up with his incessant heckling for a few months and finally, on one busy Saturday night, I was out straight making drinks and waiting on my customers when Raye pushed his face through a crowd of people and said in a loud voice "why are you even here? We are all sinner's here, why are you here?" At this point I was so frustrated and angry at the guy I didn't care who heard our conversation, I retorted, "I am a sinner too Raye, but my sins are washed clean because of what Jesus Christ did for me on the cross. Get back in the Bible, your answers are there Raye, and you know it!" (In our very first conversation he had told me his mom was a religious fanatic and made him read the Bible when he was a kid).
The next day I wrote this dynamic little song, with Holy Spirit at the helm of course.
Now most of my songs are involving myself, so I began to feel a bit convicted when I started sharing the Raye song and telling this story behind it. I felt Raye should know I was talking about him, especially where I was using the story to brag about JESUS! One day I fessed up and sang the song to Raye A Capella.  Though Raye had simmered down and most of the abuse seemed affectionate, I was a bit weary of sharing his song with him. I thought he would be so mad but HE LOVED IT! Right then, I knew in my heart, for the next three years of my bartender/customer and sometimes a musical relationship with Raye, the Lord was pursuing him. 
And then on August 11th, 2007 the unthinkable happened ... Terry Raye Trott died in a freak boating accident on Long Lake in Naples, Maine. You may remember hearing about it because it ended up to be quite the media story after it was all said and done.
There it was, so unexpected, he and his new girlfriend were dead. The entire town was in shock after the accident happened. Raye's boat was hit by a huge speed boat on Long Lake in Naples, it was dark and the driver was drunk. There were only pieces of Raye's boat left in the water and their bodies weren't discovered until days later. The community was hit hard by this, we all felt it. 
Interestingly, three days before Raye died, he came into the bar to see me. I hadn't seen much of him, in fact it had been a few months since I had any real conversation with Raye. I'd heard he had a new girlfriend, so I figured he had cut back on his drinking. This day was the last time I saw Raye. He looked me in the eye and said "honey, I listened to your CD today ... and it gave me chills." I said, "That's good Raye," surprised and never to see him again.
Have you ever personally witnessed somebody being pursued by the Lord? Raye had many opportunities to accept Jesus' love and turn his head towards God but instead he turned away. God does not force us to love Him. After all what kind of love would it be if we were forced to love? So, did Raye go to heaven? Many thought so. I tried to hide my grief which was more about where he was going than that he had died. People don't want to talk about hell, especially Christians.
How are you feeling after reading this story? Do you think it is foolish and selfish of me to think that it is very possible that Raye is in Hell? I struggle with that too. I want to think that Raye, at some point in the three years God was pursuing him, received Jesus. But I didn't see any evidence of that in Raye, no fruit. 
But none of that really matters now ... the song Raye lives on to tell Raye's story and more importantly, to talk about Jesus' love and pursuit for us. What do you think? Do you know someone like Raye? Are you someone like Raye? Send me a line, let's chat! L
RAYE   by lgs
 
Just a sinner in a sinner's body, in a sinner's world,
in a sinner's mind
I don't expect you to understand
you got the television tuned on all the time.
Take a chance, read a page,
the book of John might start your cravin'
I don't know what to say, you wouldn't believe me anyway
 
Raye you could be a ray of light
If were to ch ch ch ch change your appetite
Raye you  could be a ray of light
If you were only willin' to stand up right
 
Hey joy seeker could you get any weaker,
laying your coat down for your enemy?
You can't change my mind, it's closed tight this time,
nobody, nobody gonna get me.
Won't you tell me, tell me your story, tell me your life?
Won't you tell me so I can keep it wrapped in my anger
and add to my strife.
 
Raye you could be a ray of light
If were to ch ch ch ch change your appetite
Raye you  could be a ray of light
If you were only willin' to stand up right
Raye, you could be a ray of light just let go,
don't try to fight it
Raye you could be a ray of light just let go
and let God ignite it
 

Don't look back, don't worry about the next day
What's that crack, Raye what did you say, what did you say?
What did you say? What did you say?
 

Raye you could be a ray of light
If were to ch ch ch ch change your appetite
Raye you  could be a ray of light
If you were only willin' to stand up right
Raye, you could be a ray of light just let go,
don't try to fight it
Raye you could be a ray of light just let go
and let God ignite it
 
 
Just a sinner in a sinner's body,
in a sinner's world, in a sinner's mind